Q4 is here which means marketing budgets are going to increase substantially.
Retailers are putting all of their efforts into driving more traffic as they enter the busiest and most lucrative time of the year: the holiday shopping season.
However, more traffic doesn't always mean more leads and sales. With a fierce competitive landscape and short consumer attention span, it's more important than ever to further focus your effort and resources to converting daily website traffic into marketing leads and sales.
So how are you planning on converting shoppers this holiday season?
Here are 6 easy-to-follow onsite campaign strategies to compliment your traffic acquisition initiatives this 2017 holiday season.
Before we jump into it, here are three key questions to ask yourself:
Benchmarks – How many emails am I capturing from daily traffic?
Paid Traffic – How am I engaging with this segment with the highest bounce rate?
Holiday Marketing Emails – Am I reinforcing my email message onsite?
1. Schedule and Strategize
If you haven't started preparing for the holiday season, you're already behind. First and foremost, put together a calendar of key sales dates that you want to focus on. Check out this 2017 holiday marketing calendar with every key sales date for Q4!
Once you've got the calendar together, it's a lot easier to create a gameplan. This way, you can create campaigns that focus on a specific date, month, product categories, etc. Plan for a mix of email marketing, social, paid, and content marketing campaigns to maximize exposure and traffic.
2. Set Traffic Conversion and Email Capture Goals
Believe it or not, it's very common for digital marketers to be unaware how many emails are being collected on a daily or monthly basis. Email marketing is still king. In 2016, marketing emails drove 27% of total Q4 revenue. It's no secret that the most effective (and cost-effective) channels to reach audiences is through email. With that being said, the opportunity to capture up to 1000% more email addresses simply through email pop-ups needs to take priority.
Set a benchmark for email collection: If you don't know what your daily or monthly rates are, I can tell you that a highly optimized website can collect upwards of 3-5% of daily traffic. Think about that for a minute. Look at your current monthly traffic and compare the numbers to what you are currently collecting.
New vs Return Visitors: Study your current ratio between these two categories and you'll be amazed to find that new visitors account for well over 50% of your daily visitors. This segment is perfect to target for email lead capture. You can target segments with specific pop-ups using targeting rules.
Sync new email leads with Your ESP: Acquiring new leads is great but there must be follow up via email. Automatically sync your new contacts with specific mailing lists so you can send follow up emails and market to these contacts over a period of time. Most consumers need 2,3,4, or even 5 touches before they actually purchase. Sync up your lead capture campaigns with any of these ESPs.
3. Engage Paid Traffic
This segment has a very high bounce rate, however, has shown interest in your brand since they have clicked an paid advertisement. If you convert these visitors into leads, they show high engagement with up to 30% open rates and 5% click rates on emails.
Get their email: By collecting an email address, this visitor is no longer anonymous and you can retarget to them for free using email campaigns. This increases the return of your retargeting ad spend and opens up a direct marketing channel that has extremely high ROI in marketing email.
Engage paid traffic with a specific promotion: This shopper has a low sales conversion rate, so our goal here is simply to create an opportunity to re-engage later. A giveaway or price drop alert email sign up are two great options. Here's how to target paid traffic with a specific promotion.
4. Reinforce Email Campaigns with On-site Messaging
You're team is designing beautiful, well-crafted emails to blast out to your email list. 20-30% of recipients will open your email and roughly 2-3% will click-throughs land on your website…what next?
Carry that promotional experience over to their onsite session.
Remind the visitor about the promotion with a matching design and message of your promotion.
Present the same offer in emails and on-site: If a coupon is used in your email, present the same code to the visitor. Same goes for helpful information. Shoppers often open an email on a mobile device, quickly read then come back to your site directly once back at a computer. Or, a user will read an email, click through and forget or have not seen the full email content. Here's a great example of how to use this onsite messaging to reinforce email messaging.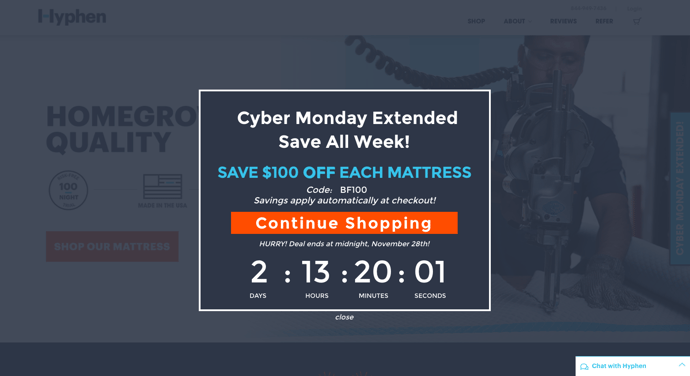 Encourage a purchase throughout the session: Remember, driving shoppers to your site is only the first half of your job. Helping that shopper through the entire process with a continuous experience will result in the highest conversion rates and ROI.
A common tactic is a cart abandonment pop up promotion. This presents an enticing offer at the moment of cart abandonment to prevent visitors from leaving and encourage a purchase. Here's a quick video on how to set up an exit pop up on your cart page.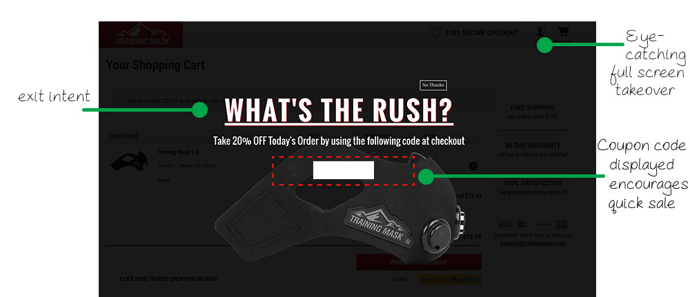 5. Leverage The Power of Free Shipping
Free shipping is a huge driver of sales because shoppers are looking for it. In a study conducted by Walker Sands, 80% of consumers stated that free shipping would make them more likely to purchase. If you can offer free shipping to your shoppers, then do it. If your margins aren't so flexible or shipping cost is particularly high for your products, we've got some great options for you too. Here are three ways we can go about free shipping (One of these should work for your site):
Free Shipping on All Orders
As I stated earlier, if you can offer free shipping on all orders, then you should. This is going to help you meet the price and shipping needs of the majority of your shoppers which will result in more sales conversions. You can either use promo codes or setup your cart platform to add free shipping to all orders.
Offer Free Shipping to Cart Abandoners
In the last section, we covered the cart abandonment promotion. This is a perfect use for a free shipping promo code. By offering free shipping to cart abandoners, you make a strong case for shoppers to purchase from you.
This incentive to purchase, at a critical moment in the purchasing decision, is delivered right at the moment of abandonment, stopping the shopper in their tracks with a decision they have to make: to purchase or not to purchase.
Use a Free Shipping Threshold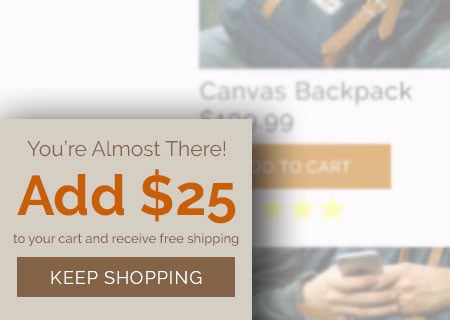 If you can't offer free shipping out right, then maybe you can offer free shipping on orders above a certain dollar amount. This allows you to set a minimum order value for free shipping, making it financially viable to offer to shoppers.
Setting a threshold to receive a desirable incentive like free shipping can also increase average order value. In fact, 39% of shoppers would purchase enough to receive free shipping. With those numbers, this type of promotion makes sense for any retailer.
Now onto how to set this up. You can implement a simple banner or pop up that states the free shipping threshold offer like "Free shipping on all orders $100+". This is very easy to setup and communicates the message clearly.
The more engaging route would be to engage shoppers with banners, pop-ups, or slide-ins that let shoppers know the exact dollar amount needed to qualify for free shipping. If a shopper has $25 to hit the threshold, you can let them know to keep shopping. Once a shopper hits the order threshold, you can prompt them to check out. Here's a full blog post and video showing you how to set up a free shipping threshold offer!
6. Don't Overlook Mobile Traffic
It varies but mobile traffic can account for half of your total traffic! Most purchasing decisions are made across different devices so even though sales conversion rates are still substantially lower on mobile than on desktop, these visitors are interested in purchasing from you.
Where there is traffic, there are conversion opportunities.
Design for Mobile: Marketing to mobile traffic is a completely different ball game. The playing field is a smaller size and the rules are different. Google's mobile policies have also changed the way we market on mobile. This is why mobile responsive tools are not always the best option, they tend to limit design and marketing flexibility.
When developing the Justuno platform, we chose to separate desktop and mobile to allow marketers to engage traffic in ways that are effective to device size.
With your pop-ups and promotions, go for short, bold copy, a large call-to-action, and also a large close button. In regards to Google's policies, here's a great example of a compliant mobile pop up/banner.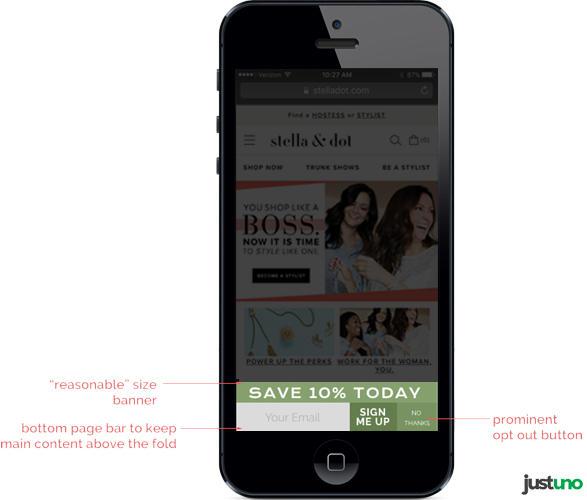 Need more explanation? Here's an SEO cheat sheet for mobile!
Get an email from mobile visitors: I'm a broken record, I know. But seriously, if you can snag an email from a mobile visitor, you're going to give yourself a much higher chance of converting them into a sale.
For this, I recommend using a mobile email pop up with a promotional offer of free shipping or a discount. You can then send a follow-up email with the promo code to encourage purchase on another device at a later time. Here's how to set up a mobile promotion.