by Tess Bemporat
Retailers and restaurateurs around the world are feeling the effects of COVID-19 and being forced to adapt. In times of crisis, when anxiety is at an all-time high, customer service and clear communication are essential.
Independent businesses don't have the luxury of a crisis communications team, which is why we created a crisis communications boilerplate for you to use during this unprecedented time.
There are seven elements to effective customer communications during a crisis:
Stay true to your mission
Use the right tone
Be clear
Be transparent
Provide timely updates
Audit your marketing messaging and promotions
Offer support to your internal teams
Visit the COVID-19 resource hub
Get the news and resources you need to stay informed and protect your business.
1. Stay true to your mission 
Your company mission is a statement that defines your business's guiding principles. In times of crisis, your company's mission and core values should inform both how and what you communicate to your customers.
According to Lisa Laventure, Lightspeed's Director of Strategic Communications, your company's values should inform what you communicate with customers during a crisis.
"Companies that are more in touch with their customers and brand will be the ones that succeed. These are the moments when you fall back on your values to dictate what you should be doing and how you should be communicating. It's not the time to market and promote, it's the time to stick up for your customers." says Lisa.
Prioritize what your customers need rather than your own bottom line, which comes off as opportunistic.
2. Use the right tone 
While the tone of your communications should align with your brand and voice, it needs to fit the context.
If your brand voice is casual and breezy, you might need to take on a more serious tone when it comes to communications pertaining to COVID-19. This doesn't mean changing your brand voice entirely but adjusting it to match the subject matter.
According to Mike Black, CEO of Marketing Agency Paige Black, it's important to take on a compassionate tone in times of crisis.
"Express emotional support and humaneness. Use a calm tone and let your authenticity shine through. Let them know that we're all in this together and that your customers and employees are your top priority," he says.
Use your communications, whether it's by email or through social, to align with customer concerns, how you will support them through a crisis and that you appreciate their support as well. Be positive, thoughtful, and constructive.
3. Be clear 
During times of uncertainty, people are receiving mixed messages left and right. How will your business cut through the noise?
For Lisa, communications need to be clear and to-the-point to resonate with customers through a cluttered media landscape.
"Focus on eliminating barriers for customers in whatever way possible and communicating with empathy, transparency, and speed," she says.
Clarity starts with your email's subject line and should follow through the entire communication. What's its purpose? What do you want customers to know?
To maximize impact, focus on the message you want to convey and eliminate anything that doesn't either support or align with it.
If the goal of your communication is to let customers know how your business is supporting them through COVID-19, be transparent and clear as to how you're doing that and what customers need to do (the call to action). Finally, direct them to the appropriate resources (like a page on your website or contact your customer support team, for instance).
4. Be transparent 
Now more than ever, customers are concerned with hygiene and safety. For restaurants that have pivoted to delivery and takeout food service, be transparent with the food safety and hygiene practices you've put in place to prevent contamination and keep customers safe.
For Matthew Donaruma, communications consultant at Suggestiv, restaurants need to emphasize the strict sanitary practices they've put in place to prevent contamination during food prep and delivery.
"Are you offering airtight packaging? Do you have contactless delivery and pickup options? What types of health practices are you obligating employees to follow? Be clear and don't just tell customers hygiene is a priority—show them," he says.
For example, a major concern for restaurants using third-party delivery services was that they couldn't assure cleanliness throughout the delivery process. To alleviate that concern, UberEats sent an email addressing that concern and outlining the measures they've put in place (including contactless delivery) to prevent contamination.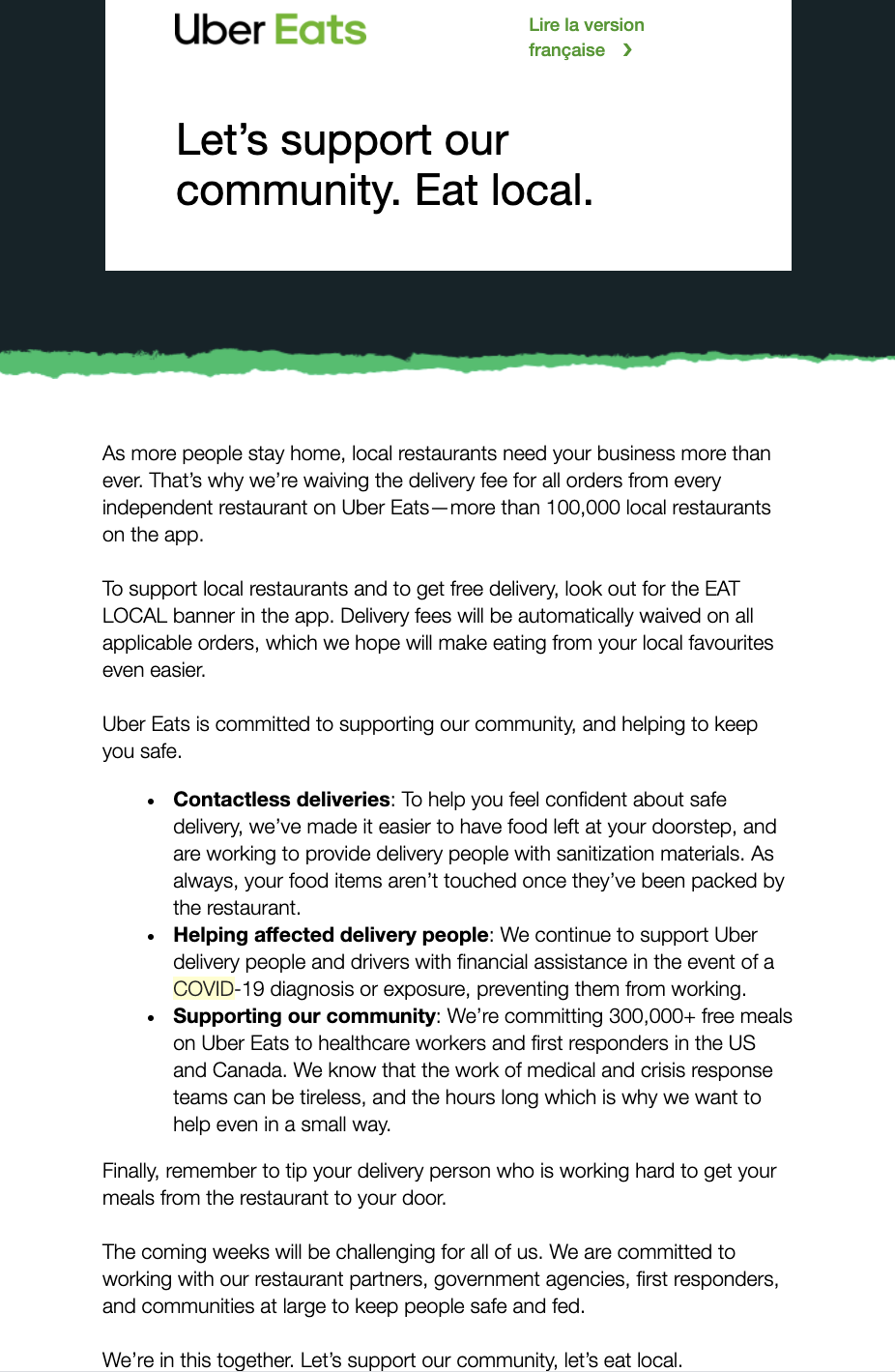 In addition to this, UberEats built a COVID-19 resources page that answers any questions both couriers and customers may have.
Retailers have the same responsibility to be transparent with their customers. If you're offering free in-store pickup or shipping for online orders, let your customers know through your website and your email newsletter.
5. Provide timely updates
During a time of crisis, when you communicate with customers is as important as what you communicate.
Information around COVID-19 is moving fast, leaving customers wondering what they should do and which stores or restaurants they can turn to. For Megha Hamal, Consultant at Megha Hamal PR & Branding, providing timely updates is a must.
"Companies need to be quick to communicate with their customers," she says. "For example, if your store is closing its doors until further notice, let the customers know right away. Don't delay the process."
Update your website regularly
In times of crisis, your website should serve as a source of truth and updates for your customers. For Matthew, that includes having a "comprehensive resources or frequently asked questions (FAQ) page that's updated as the situation evolves."
Here are some things to include on your COVID-19 FAQ or resources page:
Which locations are currently open or closed
Store hours
Products and services you offer
A detailed explanation of your sanitary practices
Contact information
Links to helpful content on your website
Links to official government and health websites
Your website should be a place customers can refer to at any time for general information on how your business is handling the crisis and supporting customers.
For example, at Lightspeed we've created a COVID-19 resource page to round up information, blogs, government, and financial resources that retail and hospitality SMBs may find useful as they navigate government-mandated closures.
Stay active on social media 
Social media is one of your most useful channels for connecting with customers.
While updating your website or sending emails each day may not be realistic for some business owners, using social to keep customers informed can be a more accessible option.
Deanna Duxbury, Lightspeed's Social Media Manager, has these recommendations for businesses looking to leverage social media in their crisis communications.
Be selective with the information you circulate:  We live in an era of fake news. Make sure that the information you share is credible and trustworthy.
Keep it relevant for consumers: Customers want to know how to get in touch with customer support, whether or not you're still open, online or delivering, and what you're doing to prevent the virus from spreading.
If your support team is overloaded, let customers know it may take more time than usual for you to respond. If you're still open but with limited hours, make it well known on all your social accounts. Finally, let them know what you're doing to keep them, your employees, and the community safe.
Keep your tone on-brand: It's important to maintain professionalism with each post or interaction on social. Remember: everyone's watching. Be helpful, constructive, and courteous; the way you respond to comments and direct messages is a reflection of how you treat and value customers.
Send newsletters
Should your business send a COVID-19 email? In all likelihood, the answer is yes, but you need to hash out what you're going to say first.
Tell customers what's important to know: your store's opening hours, and discounts you're offering as a result of COVID-19, timelines for shipping and order fulfillment, as well as the sanitary measures you're implementing. If you're closing down in-store operations altogether and selling exclusively through your online store, let them know here as well.
An example of a COVID-19 email done right is from Warby Parker. It touches on the company mission, the tone is serious and they're informing customers on things they need to know: how the company is reacting to COVID-19 internally, that they're still open for business through their online store and that their support team is also available.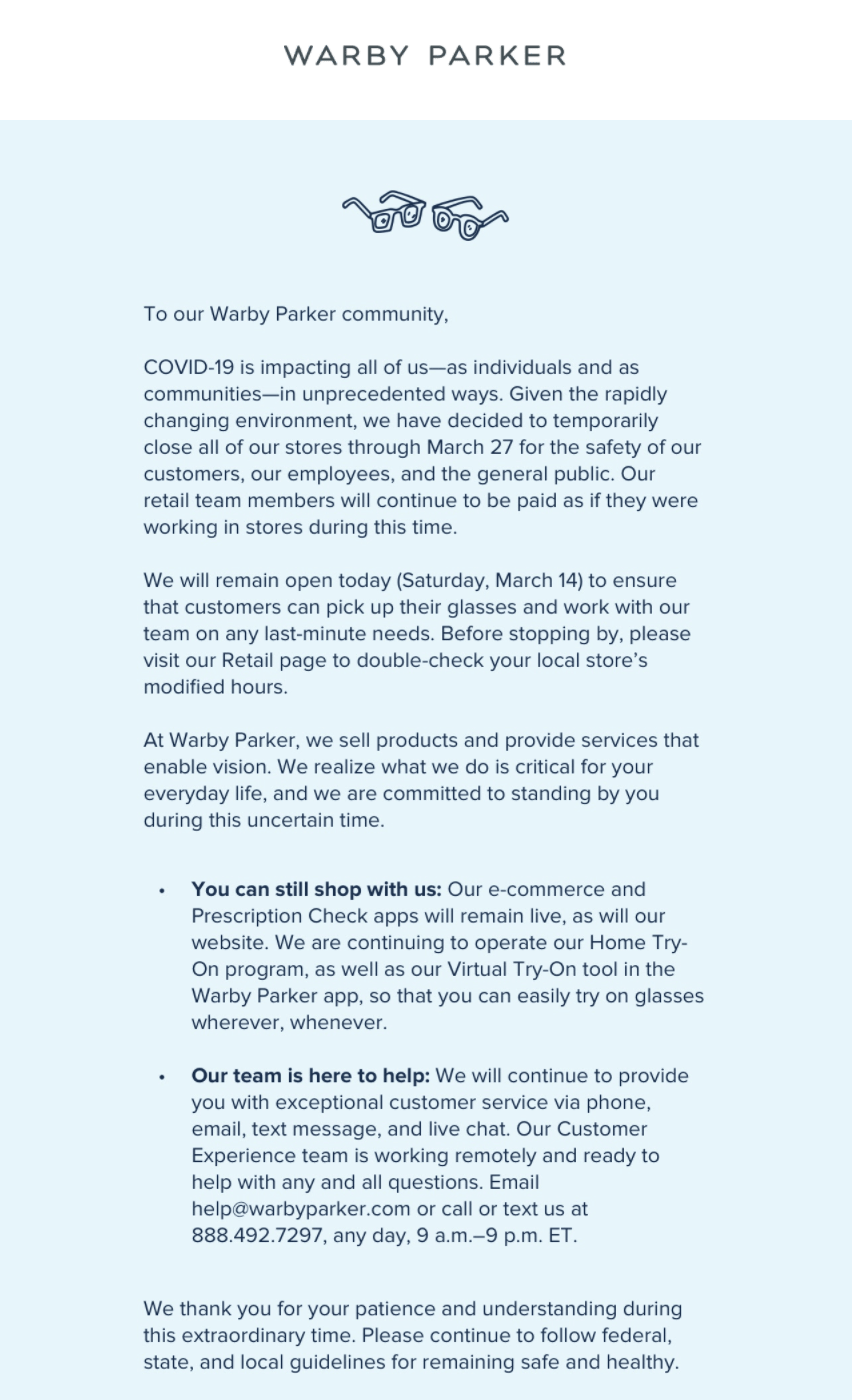 "Offer a solution to the customer's problem. Any messages that are not offering a solution will feel opportunistic."

– Mary King, Restaurant Business Analyst
Explore new content formats
Customers around the world are participating in social distancing, which means they're home a lot more than they normally would be. Consider engaging with them and creating content they find either helpful or entertaining. This can help you stay in touch with your current customers and potentially make new ones.
Here at Lightspeed, that means creating content that helps merchants keep their business afloat through the unknown.
"At Lightspeed, we really try to be a resource and a support network to our businesses. The situation is changing so rapidly that the best thing we can do is provide them insights, resources and connections to experts, and that's going to become our new normal as this permeates to all the different regions that we serve."

– Lisa Laventure, Director of Strategic Communications
Now's your opportunity to explore creating new forms of content that you previously couldn't.
For example, restaurants could publish new recipes for people to try at home or offer virtual cooking lessons. Retailers could start a blog or YouTube channel to highlight useful products, product care tips, and more.
6. Audit your marketing messaging and promotions
Retailers and restaurants are now all operating under the assumption that it's no longer business as usual. Any marketing plans, content, or promotions you had originally planned need to be reviewed and potentially revised.
"Businesses need to audit all current and upcoming promotions, social media posts, public relations outreach, advertisements, blog posts, and digital content to ensure their messaging reflects the current situation and isn't completely tone-deaf," says Donaruma.
It would be unwise (and a waste of money) for a retailer to keep retargeting website visitors with a promo on in-store sales, for instance. Review your active and planned campaigns and adjust the offer to match the current situation.
For restaurateurs, that means advertising delivery and take-home options. For retailers, that means advertising online sales and promotions.
7. Offer support to your internal teams 
While customer communications need to play a large role in your crisis communication plan, you mustn't lose sight of your employees' needs as well.
People are worried about job security, and as an employer, it's your responsibility to be transparent with them. Jenna Cooper, Founder of C3 Collective, suggests taking the following measures in your employee communications:
Be transparent 
You might not know the answers to every question right now, and that's okay. Just let employees know where you're at, what's in your control and what isn't.
Let them know if you're reducing store hours or if you're being mandated to shut down operations temporarily by your state, provincial or federal government. Let them know how their jobs are being impacted and, in the unfortunate event that you need to lay some employees off to keep the business afloat, let them know one-on-one. Keep the door open for re-hiring once things get back to normal.
Finally, provide them with a list of government resources and the financial aid that they can take advantage of. We're all human, and we're all in this together.
Be ready for anything
Use the guidelines above to start crafting your communications plan, leaving room to pivot as the COVID-19 situation matures. While it's impossible to predict where we will be in the coming days or months, there are always ways to be ready for change and keep both customers and employees informed.
Remember to be adaptable and emphatic. Customers and employees are looking to the government and businesses for guidance right now. Find ways of supporting your community and ask for their support in return.
The best thing you can do is show your customers the humanity behind your brand, and that you're in this together.